—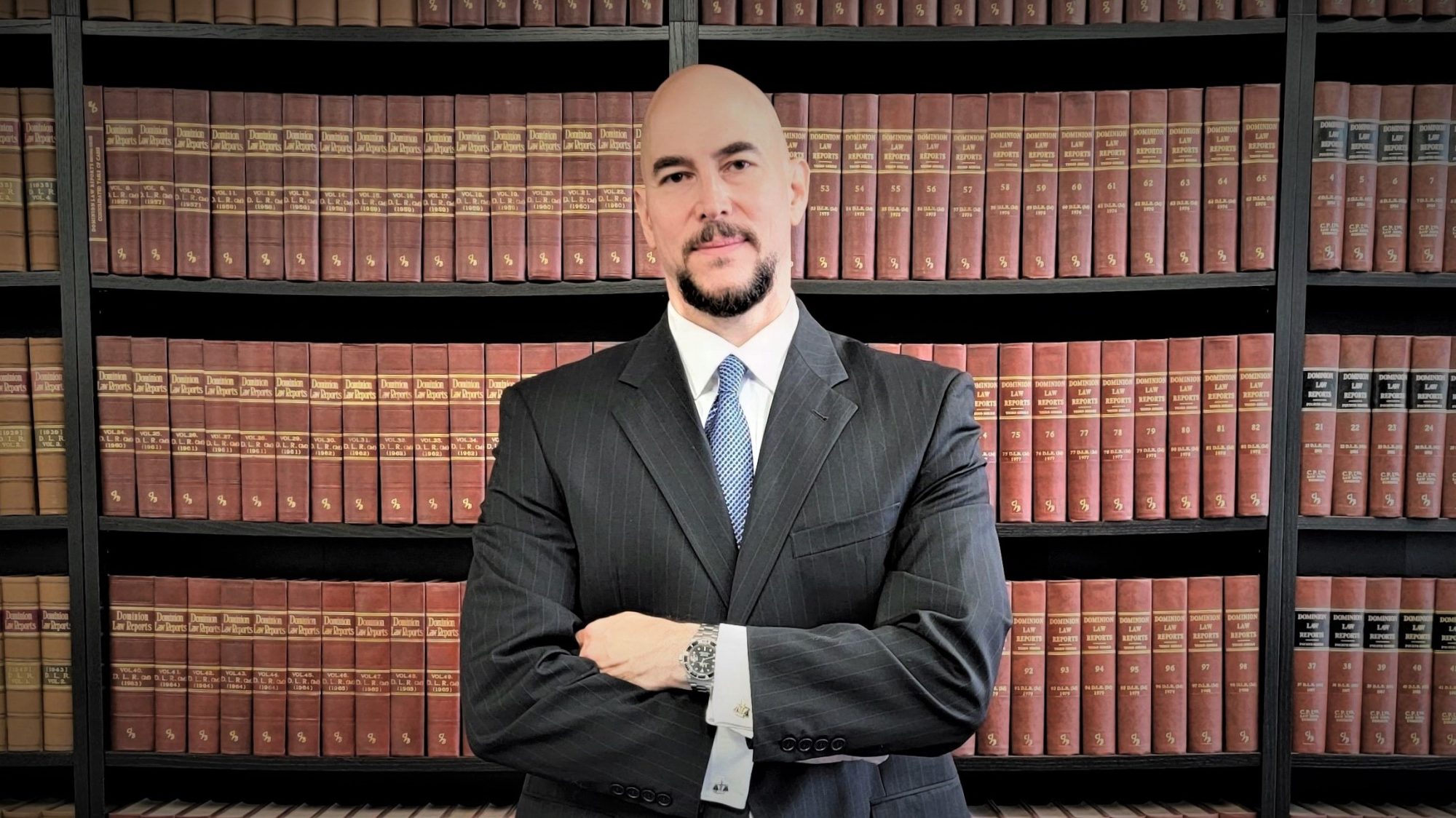 —
Yan David Payne, Certified Specialist in Civil Litigation
CELEBRATING 18 YEARS OF EMPLOYMENT ADVOCACY!
PLEASE FEEL FREE TO ARRANGE A THOROUGH IN-PERSON MEETING TO REVIEW YOUR MATTER OR, IN THE ALTERNATIVE, YOU MAY ALSO USE OUR FREE ON-LINE CONSULTATION FORM IN ORDER TO OBTAIN FEEDBACK ON THE MERITS AND POTENTIAL VALUE OF YOUR CLAIM
Mr. Yan David Payne, B.A. (Hons), LL.B., (Recognized and Certified by the Law Society of Ontario as a Civil Litigation Specialist) and the Payne Law Team Successfully Negotiate and Settle Hundreds of Wrongful Dismissal Cases Every Year.  While Under 2% of Cases Proceed to Formal Hearing, Those Cases Benefit From Our Team's Winning Trial Record.
 CLICK HERE TO GO TO OUR OUR F.A.Q.'S ON EMPLOYMENT LAW
—-

NOTABLE COURT VICTORIES:
Other Notable Court and Tribunal Wins

:
Kelland v. POI Business Interiors Inc.
(Ontario Court of Appeal File No. C49149)
See Yan David Payne's appeal win at the highest Court in the Province.  Mr. Payne secures unanimous Ontario Court of Appeal victory in favour of employee.  Employee awarded right to pursue constructive dismissal claim and awarded costs of appeal.  Employer represented by senior partner of Bay Street firm (Ontario Court of Appeal File No. C49149)
—
G.C.S.L. v. Premier Salons Ltd.
(Superior Court File No. 2014 ONSC 5028)

Wrongful Dismissal Judgement in the amount of $75,000.00 plus interest (plus an additional $35,000.00 award for costs) secured by firm litigator Hashim Syed despite court's finding of cause for the termination.  Court accepts firm's technical argument that termination provisions in employment contract override employer's defence of cause termination.  The Honourable Madam Justice Healey also dismisses employer's groundless counterclaim.  See Formal Grossi Judgement [Issued and Entered].  See also link to Judge's original Endorsement:  G.C.S.L. v. Premier Salons Ltd., 2014 ONSC 5028, CV-11-105362.
 —
—Crew et al. v. Rouge Valley Co-op 
(Human Rights Tribunal File 2012-12445-I)
 March 2016 – (updated) – Payne Law Team succeeds representing 10 applicants at the Human Rights Tribunal in an important challenge involving discrimination, harassment, and Co-op Board obligations.  Read the 88-page Decision of Adjudicator D. Sanderson.  Read March 2016 Toronto Star article reporting the win.
 Rai et al. v. Finecraft Fine Jewellery
(Superior Court File No. CV-10-412224)
Superior Court accepts Mr. Payne's submissions on reasonable notice period for two long-serving employees in this unusual summary judgement motion.  The Honourable Justice Penny finds that firm clients were each entitled to 22 months pay in-lieu of notice, well in excess of the 8 months paid by employer.  Order made despite fact that notice period had not yet elapsed when matter heard by Court.  Employer represented by experienced Bay Street Litigator.  Endorsement also represents first known decision assessing reasonable notice for employee terminated while on disability leave.  No need for pre-trial process or formal trial.  Case resolved prior to obtaining formal Order  (see Excerpt from Endorsement of Justice Penny).
—
(Superior Court File No. CB-08-362642)
Firm represents employee against unusual $1 Million claim and summary judgement motion brought by former employer.  court dismisses employer's summary judgement motion and allows employee's wrongful dismissal claim to proceed in this detailed 28-page decision.  Losing party represented by team of Bay Street lawyers, ordered to pay costs.
—
Cicinelli v. Mayfair Tennis Courts Limited
(Superior Court File No. SC-12-92206)
Firm employment lawyers Yan David Payne and Hashim Syed obtain finding of wrongful dismissal and damages against employer.  Employer forced to drop cause and resignation allegations.  Court awards "maximum amount of recoverable" costs under the Rules for employer's conduct in initially denying wrongful dismissal.  [Link coming soon]
 —
Loyst v. Chatten's Better Hearing Service
(Superior Court File No. CB-09-378679)
Employment lawyer Yan David Payne secures judgement for lost wages over a 29 month period and a 15% ownership interest in defendant company, all on behalf of former manager.  Total judgement for $256,902.93, plus costs and interest.
—
Draper et al. v. Suzuki Canada Inc.
(Superior Court File No. CV-11-425347)
Superior Court accepts each and every argument raised by Mr. Payne on behalf of former employees of Suzuki Canada Inc., and rejectsa ll submissions by Defendant Suzuki Canada Inc. and by its Bay Street lawyers in this attempt to separate claims brought jointly by former Suzuki employees.  Attempt at divide and conquer strategy fails.  Decision forces Suzuki Canada to pay employees for failed motion and sends a clear signal to all employers that claims may be joined  (see Endorsement of Master McAfee – Draper v. Suzuki).
—
(Ontario Court of Appeal File No. C51251)
Judgement in favour of former gas station operator exceeding $500,000.00 (combined Judgement, costs and interest) unanimously upheld by Ontario Court of Appeal.  See also original Superior Court Judgement.
 —
(Superior Court File No. 07-339832SR)
Firm obtains Judgement for 12-months pay in-lieu of notice ($30,000.00) plus $17,000.00 in compensation for lost tools on behalf of mechanic with 5 years of service.  Court also awards costs and interest against employer.  Firm seizes funds from employer's bank account (see Judgment of justice Lederer).
—
Janis Valentine et al. v. Gametronics Gaming Equipment Limited
(Superior Court File No. 02-CV-239526CM3)
Yan David Payne obtains Judgement on behalf of group of former employees in the amount of $80,753.13, plus costs and interest.  Employer's appeal attempt dismissed.  Judgement and costs fully recovered through enforcement procedure  (see valentine judgement).
—
Khamis v. Statel Capital Partners Inc., et al.
(Superior Court File No. 07-CV-335479SR)
Yan David Payne manages to convince Superior Court to hold trial in Toronto despite former employer being located in Ottawa.  Costs awarded to client.  Matter resolved shortly thereafter.
—
Brouillette v. H  & R Transport Limited

Yan David Payne secures 64-page decision in favour of firm client under the Canada Labour Code and rejecting employer's objections and permitting s. 240 Unjust Dismissal application to proceed (see Decision of Adjudicator Gorsky – Brouillette v. H & R Transport Limited).
—
Barbara Wells v. Metcap Living Management Inc.
(Superior Court File No.: 07-CV-343998SR)
Firm obtains formal Judgement against former employer for balance owing under settlement agreement, including a mandatory Order that the employer provide a positive reference letter: "… and to provide a positive reference letter reflecting nine years of loyal and dedicated service, the remaining terms of said reference letter to be agreed to by the parties and the defendant shall respond to any and all inquiries in a manner consistent with the tone and content of the said letter". (see Judgment – Signed and Entered (Lederer's decision).
—
Cao v. Human Resources and Skills Development Canada
Firm successfully appeals denial of EI benefits (based on allegations of misconduct) to Board of Referees.  One of many decisions where the Board unanimously accepts Mr. Payne's submissions, overturns HRSDC's decision to deny, and reinstates full benefits. (see Board of Referees Decision)
—
Ng v. Human Resources and Skills Development Canada
HRSDC decision denying client's EI benefits application resceinded following filing of Appeal to Board of Referees and written submissions by Firm.  Matter fully resolved within 8 days. (see Letter from Service Canada).
—
(Human Rights Tribunal File No. 2009 HRTO 158)

Firm successfully proceeds with Human Rights Application against employer independent of union after union withdraws all grievances. (see Interim Decision – Reactivation of Application).
—
Frank Martino v. Microbix Biosystems Inc.
(Superior Court File No. T6770/02)
Yan David Payne wins wrongful dismissal trial against major Bay street law firm of Borden Ladner Gervais LLP.  Judgement and costs in favour of client.
Past results are not necessarily indicative of future results.  The amount recovered and other litigation outcomes will vary according to the facts in individual cases.  Please speak with us about the facts of your case.
See the following topics below:
1. Employment Law or Labour Law
1. Employment Law or Labour Law?
Unionized employees are governed by a collective bargaining agreement which includes an internal system for addressing grievances. This area of law relies heavily on the union-management relationship and the collective bargaining agreement to resolve disputes and carries the distinctive label of 'Labour Law'.  In most cases, a union settlement will be binding on an employee.  If your union is not representing your needs, we can assist you in bringing an application for fair representation against your union or, in severe cases, a court action for negligence.  We can also assist you with any Human Rights concerns if your union refuses or fails to represent you legitimate concerns.  In such cases, we can represent you in an application directly against an employer.  See formal order obtained by our firm confirming same in Gaudet v. The Ottawa Hospital, 2009 HRTO 158.
Other work relationships are usually governed by individual contracts of employment (written or oral) as well as statutory protections including the Employment Standards Act, 2000 (as amended) and the Canada Labour Code (for federally-regulated employees).  In such cases you will normally have direct recourse to the courts and different legal principles will apply. If you do not operate in a unionized environment, your disputes likely falls under the 'Employment Law' category.
2. Employment Law
Some employers will attempt to minimize an employee's rights through contract.  It is important to obtain legal advice regarding the legality/enforceability of any pertinent clauses.  There are various ways to circumvent employment contracts.
Independent contractors and part-time workers have many of the same entitlements as traditional employees. For example, many workers, managers and executives who do not fall within the traditional employee-employer relationship are nonetheless entitled to reasonable notice of termination or pay in lieu thereof. Some employers attempt to characterize the work relationship as something other than employer-employee. Therefore, it is important to look beyond the labels used in your contract in order to determine your rights and entitlements. If you do not think that you fall within the traditional employee-employer relationship, you should seek legal advice.  Please feel free to use our free online consultation form.
Because of the importance of the employment relationship in our society, Employment Law is an area that regulates and addresses a great deal of issues including minimum standards, safety, minimum wage, overtime, vacation pay, probationary periods, confidentiality, ownership of inventions, mistakes, fraud, substance abuse, sexual impropriety, harassment, human rights, disability, relocation, sabbaticals, tardiness, competition, performance reviews, loyalty, honesty, absenteeism, competence, violence, dress, discipline, vacation, office romance, parental leave, sick leave, injury, independence, outside activities, surveillance, conflict, moonlighting, bankruptcy, the sale of the business, resignation, dismissal, notice of termination, pay in lieu of notice, severance, compensation, etc. Employees and employers cannot contract out of or waive minimum statutory employment standards.  The Employment Standards Act, 2000 and Canada Labour Code set out minimum standards only.  However, in many cases, you will be entitled to much greater level of compensation than the statutory minimum.
3. Wrongful Dismissal
Wrongful Dismissal means that an employer is terminating the employer-employee relationship without providing sufficient notice or pay-in-lieu of notice (commonly referred to as severance). There is an exception where an employer can make out a case for cause termination.  Practically speaking, it is very difficult for an employer to show cause in a court of law – even if they allege cause at the time of dismissal. Some employers will allege cause in order to avoid legal obligations to dismissed employees.  In a case where cause is being alleged but is not found to exist, the courts may impose additional punitive-type damages above and beyond pay-in-lieu of notice.
It is not sufficient that the company is downsizing or restructuring or that the dismissal is because of minor mistake or minor misconduct. Where an employer is terminating the employment relationship without cause, the employee is entitled to reasonable notice of termination or pay-in-lieu thereof. It should be noted that certain more serious acts of misconduct may form the basis for an employer's defence to a claim by a former employee. Examples of such acts include violence in the workplace and fraud. If you are unclear about your entitlement, we can advise you of the strengths and weaknesses of your case.
Various factors come into play which may increase or decrease your pay-in-lieu of notice entitlements including your age, re-employment prospects, title, type of work, years of service, contract terms, availability of similar employment, etc.  Please feel free to contact us to discuss your particular circumstances.
4. Constructive Dismissal
Constructive Dismissal involves the termination of the employee-employer relationship by the employee due to the actions of the employer – such as a significant change in the workplace. Examples of significant change includes the geographic relocation of the employee, significant reductions in pay and/or significant reductions in responsibilities. Employees are entitled to reasonable notice of significant changes such as these or pay in lieu of notice.  Where an employee is pressured to quit due to the employer's conduct, the courts treat the matter in much the same way as a straightforward wrongful dismissal case.  Basically, you can quit your job and claim for wrongful dismissal damages in certain specific cases if the change fundamentally alters your employment or makes it unreasonable for you to remain at the workplace.  An employee can leave and the employer will continue to be responsible for wages and benefits during the notice period or until the employee finds similar work.  Examples of employer conduct amounting to constructive dismissal and where there is no requirement to stay on include:
– Changes in job description/demotion amounting to loss of prestige, embarrassment, humiliation, etc.
– Employer unjustifiably criticizing the employee
– Employer leveling vague and unfounded accusations at the employee
– Hostile and embarrassing work environment
– Harassment at the workplace
– Employer requiring employee to move or travel out of immediate jurisdiction
– Employer requiring employee to act in unlawful manner
– Employer requiring employee to act in dangerous manner
In cases of more minor changes, an employee may be expected to stay on while they seek alternate employment but may also have grounds to seek compensation for any reduction in remuneration.
5. What do I do?
DO NOT SIGN ANYTHING. Even if you have received termination pay or a severance package from your employer, you should not sign anything. Do not quit impulsively. Contact us first.
You do not have to sue. You may choose to simply file a complaint under the employment standards legislation with respect to an alleged failure by your employer to pay wages, to provide benefits or to provide you with termination and/or severance pay. However, it is wise to consult a lawyer before making this decision as you would only be entitled to the minimum statutory requirement in the case of a complaint.  Should you choose to make a complaint, you may lose the right to sue with respect to the same matter. It is important to note that your entitlement under the employment standards legislation is limited to the minimum statutory requirements whereas the courts are not limited to these statutory minimums. As such, you significantly decrease any negotiation power you may otherwise have had and may severely decrease the value of your ultimate severance payment.  Conversely, if you choose to sue, you may not proceed to make a complaint. Finally, depending on the circumstances, you may also bring a human rights complaint as against your employer or – as in the case of certain federally-regulated fields – seek reinstatement, backwages and damages.
6. How much should I get?
Once the employment relationship has been terminated, you have an obligation to take all reasonable steps to limit your losses by actively seeking re-employment. However, the courts do not expect you to immediately settle for just any job. You should make good faith efforts to find a comparable position (and keep records of your job search efforts).  Income earned during the reasonable notice period following dismissal is credited against any damages you obtain in court (other than the statutory minimum amounts). If you reach an unconditional lump-sum settlement with your employer prior to finding new employment, you may be entitled to the full amount even if you find a new job the very next day. If your prospects for re-employment are strong, it may be beneficial to settle for an unconditional lump-sum payment early on in the process in exchange for release your employer from any further obligations.  This can often be accomplished with the help of a skilled negotiator.  Please use our online consultation form for an assessment of your particular circumstances.
The written employment contract, if there is one, is a good starting point for determining how much money should be provided in lieu of reasonable notice. If there are limitations on notice contained in the written employment contract, and if the terms fall within the minimum statutory requirements of the Employment Standards Act, 2000 or the Canada Labour Code, the contract terms may not govern (in some cases, the timing of the execution of the contract may render it unenforceable as can changes in the character of employment since the time of signing, etc.)  There are often weaknesses in the wording of termination clauses which can permit the courts to circumvent the restriction altogether.  In cases where the clause does not meet the minimum statutory requirements, it is likely null and void in which case the common law (judge-made law) principles would then apply.  As an example, if you are dismissed from your $30,000/year employment position after five years of full-time service and your employment contract provides that you can be terminated on two weeks notice, that clause is null and void because the notice period is insufficient in meeting even the minimum statutory obligation. In such a case, the common law would apply and you may be entitled to compensation in the range of $18,000-$23,000 (as opposed to mere $1,153.85) in salary alone.  Again, in the case of human rights issues or in the case of federally-regulated employees, additional relief may be available including possible reinstatement, backpay, and damages.
In addition, you are entitled to vacation pay accrued to the date of dismissal. You may also be entitled to compensation for loss of future benefits including health benefits, insurance, stock options, club memberships, bonuses, car and travel allowances, rrsp and pension contributions, etc. and these should also figure in the equation.
Without a written employment contract, your employer cannot limit your common law entitlement to reasonable notice or pay-in-lieu thereof.  Even with an employment contract purporting to limit notice, you may be able to circumvent such clauses.
The law of wrongful dismissal does not allow for a reduction or increase in the notice period depending on performance. That is to say, it is not a valid legal argument for your employer to say that your performance was less than satisfactory. If the dismissal is without cause, you are entitled to the full notice period or pay in lieu thereof. A damage award will vary depending on various factors including your age, your salary, your position, your chances of re-employment, your treatment at the time of the dismissal and the length of the employer-employee relationship. Depending on the manner of your termination, you may be entitled to additional damages as against your employer.
7. Human Rights violations
If your dismissal is related to discrimination on prohibited grounds, you may be entitled to remedies in addition to those noted above. Further, compensation under the Ontario or Canada Human Rights Code are not limited to the notice period and may be significantly larger and could include reinstatement, backpay, and damages. If you feel that one or more of your human rights have been violated, please contact us or use our free online consultation form.  For further information, you may also browse the
The above does not constitute legal advice and is for information only. Should you require legal advice, please contact us or use the free online consultation form.
Certified Civil Litigation Specialist Employment Lawyer
Top Employment Litigators in Toronto
Top Employment Litigation Lawyers
Comments are closed.