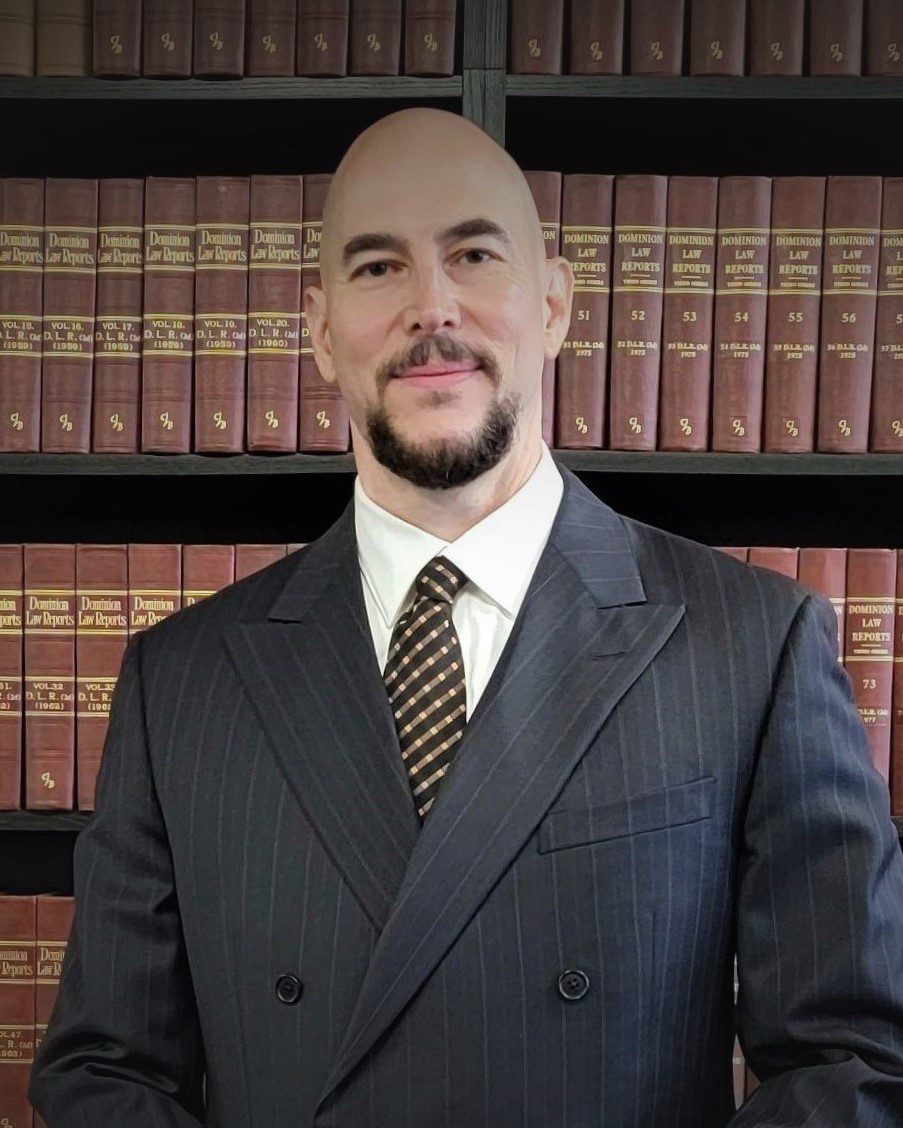 I personally welcome you to our firm and I invite you to browse our site.
Over my 20+ years of practice, I am most proud of the team I have assembled.  We have knowledgeable, energetic, and experienced lawyers and staff who want nothing more than to achieve results for our clients.
Our mission is to resolve disputes where possible and,  if necessary, to advocate effectively on behalf of our clients through formal proceedings (litigation).  This is who we are and it is at the very heart of what we do.
Our record speaks for itself. 
Rest assured that your matter is in good hands.  In recognition of my extensive litigation experience and motion, trial, and appeal performances, the Law Society of Ontario has designated me as a Certified Specialist in Civil Litigation, a distinction reserved for the top litigators.  Very few lawyers are permitted to refer to themselves as Specialists (in fact, less than 0.5% of Ontario's 55,000 lawyers are permitted to refer to themselves as civil litigation specialists).
Our team handles a range of commercial litigation disputes including partnership and shareholder disputes, breach of contract cases, commercial lease disputes, negligent and fraudulent misrepresentation claims, equitable and contractual ownership interest disputes, among many others.  We have experience in seeking and securing extraordinary civil remedies including anton pillar orders (essentially civil search warrants), mareva injunctions (freezing assets), and preservation orders.  We have secured judgments for fraud which survived bankruptcy, punitive damage awards, and we have handled numerous reported summary judgment motions.  We include here a sample of our notable commercial litigation decisions:
In a 2022 case, He v. Li, Court File No. CV-21-00672289-0000, litigator Yan David Payne succeeded in securing further Order for preservation of Hundreds of Thousands in additional funds, on notice, following earlier successful "freezing " of $523,500.00 in funds through Preservation Order (brought on motion without notice). See earlier Order of the Honourable Justice Myers dated December 22, 2021: Order and Sch A of Justice Myers – ISSUED – Dec 22.21
In Vilanur v. Chandra Babu Bala Sri and 8661928 Canada Inc., CV-19-00615568-0000, we secured a Superior Court of Justice Judgment for $250,437.57 in actual damages plus $100,000.00 in punitive and exemplary damages in divisive investment dispute.  The Honourable Justice Pollak also awarded costs and post-judgment interest at a rate of 8% per annum.  
In Jovkovic v. Dasliva Motorsports Ltd. – Superior Court File No. CV-15-523869, we secured Judgment of over $427,000.00 including punitive damages and costs.  Judgment obtained despite personal Defendant having made an assignment into bankruptcy.  Judgment only possible because we obtained separate Order for leave to proceed against Defendant despite assignment into bankruptcy.  See Order obtained from Bankruptcy Court: Order from bankruptcy court in London – June 6.18.  We then succeeded in setting aside transfer of property (transferred by debtor prior to his bankruptcy) making value of debtor's interest in property available for distribution among creditors.  Total value of proven claims $974,395.23.  Read full May 27, 2022 Endorsement of Justice A.K. Mitchell: Endorsement Mitchell J. CV21-1176 Jovkovic v. Dasilva et al. Reasons for Judgment 27May22.  Most recently, we obtained an Order compelling the sale of the bankrupt's home, which he had transferred to his wife prior to bankruptcy.
In Sywak v. Collver – Superior Court File No. 18-67074, we secured a formal Judgment for over $700,000.00 in business dispute gone wrong.
In Osama Eissa v. Konstantinos Kazinakis, Superior Court File No. CV-18-598085-00CL, we secured early Court order freezing assets of Defendants prior to claim being served (Mareva Injunction).  We then obtained a further Order from the Honourable Justice McEwen, on notice, reaffirming and expanding scope of Order shortly after Statement of Claim served on Defendants: Order-Justice-McEwen-ENTERED-June-5.18
In 2057552 Ontario Inc. v. Dick et al., 2015 ONSC 3182, litigator James Clark secured an Order from the Honourable Mr. Justice Perell of the Superior Court of Justice setting aside oppressive Mareva Injunctions (freezing Orders).  Mr. Clark was also successful in fending off the subsequent appeal and in reducing the quantum of the Judgment by way of cross-appeal to the Ontario Court of Appeal.  
In Bahl v. Cadesky and Associates and Barry Seltzer, litigator Yan David Payne secured a Superior Court Judgment Allowing a $12 Million Lawsuit to proceed despite attempt by client's former lawyer and former accountants to derail the negligence action related to failed tax scheme.  Yan David Payne took over from Bay Street firm and lead the charge in a 3-day summary judgment motion culminating in a win against senior members of Ontario bar appointed by professional liability insurers.  
In Optech Inc. v. Sharma, litigator Yan David Payne succeeded in thwarting an unusual $1 Million claim and summary judgement motion brought by former employer involving allegations of a "kickback scheme".  Court dismissed employer's summary judgement motion and allowed employee's wrongful dismissal claim to proceed in this detailed 28-page decision.  Losing party represented by team of Bay Street lawyers, ordered to pay costs.
In Dardha v. Theodore et. al., litigator Yan David Payne obtained Judgement following 2-week trial in a negligent misrepresentation case stemming from the purchase of a business.  Total Judgment, costs, and interest exceeding $500,000.00.  Decision unanimously upheld by Ontario Court of Appeal: See also Court of Appeal decision.
In Loyst v. Chatten's Better Hearing Service, litigator Yan David Payne obtained unanimous Ontario Court of Appeal decision confirming $256,902.93 Trial Judgement in addition to costs of trial and appeal plus interest.  Court awarded a 15% ownership interest in company to a former manager, as well as compensation for lost wages over a whopping 29-month period.  See Ontario Court of Appeal Decision.  See also lower court decision:  Loyst v. Chatten's Better Hearing Service, Court File No. CV-09-378679.  See Cost Order for an additional $35,000.00.
We have experience handling and resolving thousands Claims, Defences, and Appeals at all levels including before administrative tribunals, the Superior Court of Justice, the Divisional Court, the Ontario Court of Appeal, and up to the Supreme Court of Canada, including those involving:
Real Estate and Commercial Tenancy Disputes 

Partnership Disputes 
Shareholder Disputes 
Contractor/Construction Disputes 
Defamation Claims and Defences 
Professional Liability and Negligence Claims and Defences 
Feel free to browse our reported cases section which includes many, but not all, of our trial and appeal wins over the past 18 years.
Our clients also speak for us.  Feel free to browse our testimonials section which includes a sampling of the positive ratings and reviews we have received.
We abide by the three "P"s of Paynelaw:  Preparation, Professionalism, and Perseverance.
When selecting a law firm to represent you in negotiations, or when escalating a dispute by way of formal proceedings, you should always ensure that your chosen firm has vast trial and appeal experience over many years.  Just as important, you should ensure that the prospective firm has maintained an impressive record of successes at trial and on appeal (beyond 'sales talk', these cases should be widely and publicly reported).  While each case is unique, a civil litigation lawyer's proven ability to win is a very important consideration in negotiations and in formal litigation.
Having counsel that has a proven track record in formal proceedings can provide you with important leverage in negotiations.  When considering a law firm to represent you, you should also consider the satisfaction of other firm clients.  As the majority of cases do settle prior to formal hearing (99% of our cases settle without requiring adjudication), you should also ensure that those results are just as impressive as the firm's trial and appeal record (if not more so).
In some cases, a client may want to take a case to trial or appeal, even though it appears to be a risky proposition (for example, for public policy reasons such as encouraging the government to change legislation, etc.)  While such cases do arise, it is important that you understand what your prospects are before moving forward with any formal steps.  An important part of the solicitor-client relationship is ensuring that you are fully informed about the process.
Each case requires a strategy.  Make sure your strategy is backed by a proven track record.
Yan David Payne, Certified Specialist in Civil Litigation
Barrister and Solicitor

WHAT CAN WE HELP YOU WITH?
All of our lawyers are experienced researchers, negotiators, and litigators.  Payne Law lawyers have been retained to lead a variety of litigation cases and each of us has particular areas of focus.  Our lawyers have represented clients through contentious estate litigation, defamation actions, partnership and shareholder disputes, commercial transactions gone wrong, real estate litigation, negligence, professional liability (suing a lawyer or accountant), construction lien matters, wrongful and constructive dismissal matters, residential and commercial leasing/tenancy disputes, tax appeals, estates disputes, bankruptcy litigation, and complex civil appeal proceedings, among many others.
The consistent focus of our practice is dispute resolution.  Over 99% of our cases settle well ahead of trial.  Where an acceptable settlement cannot be reached, our lawyers thrive in trial and appeal settings.
The courts have various specialized divisions  in terms of both substantive law and monetary jurisdiction.  In many disputes, a client may have various alternative options available to prosecute their claim through court or through one or more of various specialized tribunals.  If you are not careful, you may inadvertently choose a process that could have the effect of waiving your rights to even greater damages and other relief.  In other cases, a  client may have the option of prosecuting their claim simultaneously with two or more processes.
Courts and tribunals often have different procedures with varying deadlines and different rules dealing with the admissibility of evidence.  Finally, some courts, such as the Superior Court of Justice, will have alternate internal procedural rules depending on such factors as the monetary award being claimed.
Although some clients will retain a counsel well in advance of any dispute with the aim of avoiding potential liability, most will retain a lawyer when they decide to sue or when they are being sued.  Your lawyer should assist you in canvassing solutions out of court, including finding common ground for a settlement.  Early settlements can be beneficial to both sides in that they save time and expense and take risk out of the equation.  Prior to commencing any proceedings, you should discuss with your lawyer all of the procedural stages involved in your case from filing your pleadings through to formal hearing and onto enforcement of your Judgement.  It is especially important to discuss strategy with your lawyer and to ensure that you agree with his or her approach to resolving your dispute.
The above does not constitute legal advice and is for information only.  Should you require legal advice, please contact us directly.
Past results are not necessarily indicative of future results.  The amount recovered and other litigation outcomes will vary according to the facts in individual cases.  Please speak with us about the facts of your case.
Certified Civil Litigation Specialist, Commercial Litigator
Top Commercial Litigators in Toronto
Top Commercial Litigation Lawyers
Comments are closed.